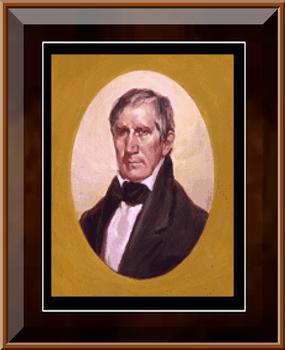 From 1816-1819 Harrison served as US Congressman from Ohio. From 1819-1821 he served one term in the Ohio State Senate.

Harrison was unsuccessful in his attempt to obtain the Ohio governorship and seats in both houses of Congress. In 1825 he was elected to the US Senate, serving three years. According to John Quincy Adams, Harrison displayed "a lively and active, but shallow mind."

During late 1828 to early 1829 Harrison served as Minister to Colombia. He was recalled because his stern republicanism proved uncongenial to the Colombian government.

Harrison was a persistent office seeker and wanted the presidency. He promoted his candidacy with tours of Indiana and Illinois the summer of 1835.

Friends of Daniel Webster suggested Harrison run as Webster's Vice Presidential candidate. Harrison proclaimed he would not run for Vice President "on that ticket or any other."

During the summer of 1836 he broke tradition and openly campaigned at rallies throughout the country. The Whigs could not agree on a candidate and the party vote was split between Harrison, Webster and Hugh L. White. Democrat Martin Van Buren, won the election.

For the next four years Harrison continued to campaign and in December 1839 was nominated as the Whig candidate at their national convention. His Vice Presidential running mate was John Tyler. Thus, "Tippecanoe and Tyler Too."